Although the government are officially lifting all Covid guidelines and restrictions from the 19th July, we still want to ensure the utmost safety of our visitors at CarFest.
To ensure that CarFest is a safe place for everyone, please take a look at the safety measures we will be implementing:
AHEAD OF YOUR ARRIVAL TO CARFEST
We actively encourage all visitors to take a lateral flow test 24 hours before they leave for CarFest. You can get LFT tests from your local pharmacy, on the government website or supermarket pharmacies. Please note if you have been vaccinated we would still advise you to do a LFT as you can still carry Covid.
As a reminder, these are the main Covid symptoms you should look out for when taking a Covid test: a high temperature, a new continuous cough, a loss or change to your sense of smell or taste.
If you test positive for Covid 19, you must isolate for 10 days and not come to CarFest. (in accordance with the government isolation requirements).
AT CARFEST
We ask that you maintain social distancing at CarFest and are respectful of other peoples space
We ask that you wear masks in enclosed/indoor spaces (we have very few of these areas at CarFest!)
We look forward to welcoming you to CarFest.
BRAND EVENTS IS GOOD TO GO!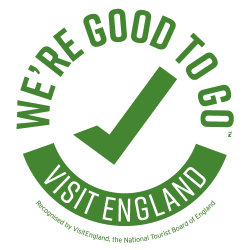 Brand Events (who operate CarFest on behalf of Chris Evans) have been awarded the 'Visit Britain' industry kitemark - WE'RE GOOD TO GO.
We have a scalable range of Covid-compliant and social distancing plans in place for our full calendar of events this year
We have delivered numerous events over the past 12 months, successfully entertaining over 100,000 visitors whilst meeting government guidelines